The Last Party
(aka Hipgenesis)
Saturday February 18 - 2006
by kevissimo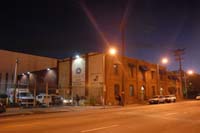 So this was it...and all good things come to an end. And what an ending it was. We had just left
Tawny's Birthday
which followed the
Gig-Guys Sausage Fest
to see what this evening would bring....Seven DJs in seven rooms, lights, grafitti and broken concrete and bowling in the hallways. It was billed as the
Hipgenesis
party to be held in a secret location downtown, but all of us knew where it would be. It was my old home of thirteen years, Cameron's old home, Marcie and Bash's old home as well as Audra, Karis and last final hold out being Paynie and his Red Loft.
In the years since I was able to get Paynie into the building, the Red Loft became a central gathering space for some of the best parties we have ever been to. There, various circles of artists, burners and peeps of all walks mixed, made movies and made art. Much of that art was ephemeral and vanished with the sunrise, but magic and mayhem was wrought in this space.
Unfortunately over the past few years increasing pressure to gentrify had come to downtown and it was now here to stay. Prepackaged condominium "lofts" and upscale apartments began pushing the artists out as rents increased and the Arts District slowly became an ironic title. In November of 2005, I saw the writing on the wall and finally moved. Our building on east 7th strangely fell not to condos, but to a school. Under the banner of "Affordable Housing" our owners sold the building and the 30 day notices came just shortly after.
The clock was now ticking and this was the last party.
It was everything that building deserved.
"I'm glad I was here with you, Paynie...here at the end of all things..."
Wolfie's pix
Return one home smaller to
GIGSVILLE